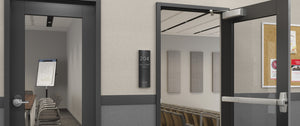 Who We Are and What We Do
We are a U.S. based source for any and all commercial door hardware needs. Our sales team has decades of experience, providing us with the product knowledge necessary to serve our clients and find solutions fast, making sure the product is exactly what the client needs.
Our mission is to make purchasing commercial hardware simple and confusion-free. We strive to keep our customers happy by offering brand name hardware at competitive prices. We're the one-stop-shop for the widest variety of storefront hardware available on the web.
Hardware Categories and Applications
---
Welcome to our "Anatomy of a Door" interactive diagram.
If you are not sure what hardware you require, simply have a look!
Then search our inventory.
Click on the door near the relevant hardware name and view our inventory. It's that easy!