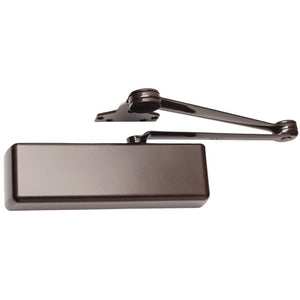 Door Closers
---
Here at StorefrontHardware.com we offer the best in commercial and residential door closers.
For residential doors, we offer the Quietouch brand, which is a line of closers made by Sentinel Door Controls. These closers are easy to install and are guaranteed to work in almost any situation for your home or office. 
We also carry a variety of commercial grade door closers. Our surface mounted closers are by far our most popular. These closers are mounted on either the push or pull side of the door or frame. With a variety of installation types, they will work in almost any commercial door application and they also offer the widest range of size and motion. They will help you stay within the codes and guidelines of all fire safety regulations as well.
Our brands of overhead concealed closers are some of the best available. These types of closers are mounted above the door in the header of the frame. Many times, these closers are chosen because they are hidden from view and are more aesthetically pleasing. They also operate for many years, often without any problems or need for repair or replacement.